**********
The following information was obtained from a book located at the Fresno County Library's Main Branch in Fresno titled Public Schools of Fresno County 1860 – 1998.
I need additional photos of the school and also the students to add to this page. Any updated information for Duke Grammar School will be greatly appreciated. Please email Linda at:
LatonHigh@comcast.net
.
********************


Duke Grammar School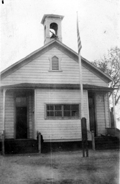 The Duke District was organized on January 3, 1877 and was later united to Laton High School District on August 1, 1921. The first trustees included Clark Joplin, John Yeargin, and A. B. Atwell. The Duke District personnel in 1899 included Edith Carpenter, teacher; and L. Heilbron, Charles Burnett, and R. T. Thomas, trustees.

An early school history reported in the Fresno Bee, recounted how the first bell of the old Duke School rang in 1885 for sixty-five pupils at what is now Clovis and Clarkson Avenue. Mrs. Maggie Leavelle recalled she went to school in a warehouse on Clarkson Avenue when the family moved here in 1884. When the shed burned, school was held in a church until the Duke School was completed in 1885. One teacher taught nine grades in one room. She said, "In those days the teacher handled the 65 pupils for $75 a month, now they can't teach more than 30 students for $300 a month." Mrs. Leavelle (nee Maggie McNamee) graduated in 1894. (She later married Charles Leavelle.) Some of the other graduates that year were Jo Joplin and the Orr children.


---