October 3, 1954
Dedication of
​The First Church of God
Hanford, California
​
****
The following two photos (splits) are the right and left side of the original photo that was too wide to scan as one. You will notice that there is an over lap in the middle. Soon, I will attempt to include a copy of the complete photo, however, the faces will be smaller so I'll still leave the 'splits' so that you will be able to see the faces easier.
Please check the names for errors and the ? names which means that we are unsure of their names. Those in parenthesizes may be correct but we are only guessing. Please help us fill in the blanks. If you can help us, email Linda van der Veur at
kissincousin@comcast.net
You can click on my email address and pre-addressed email form will pop up.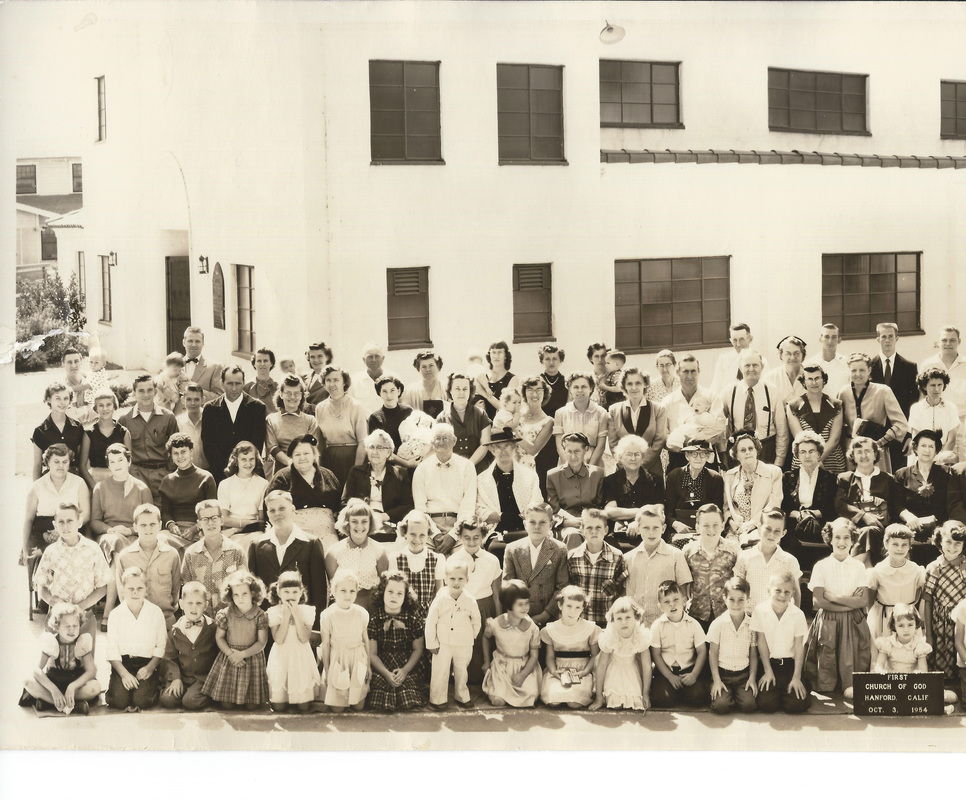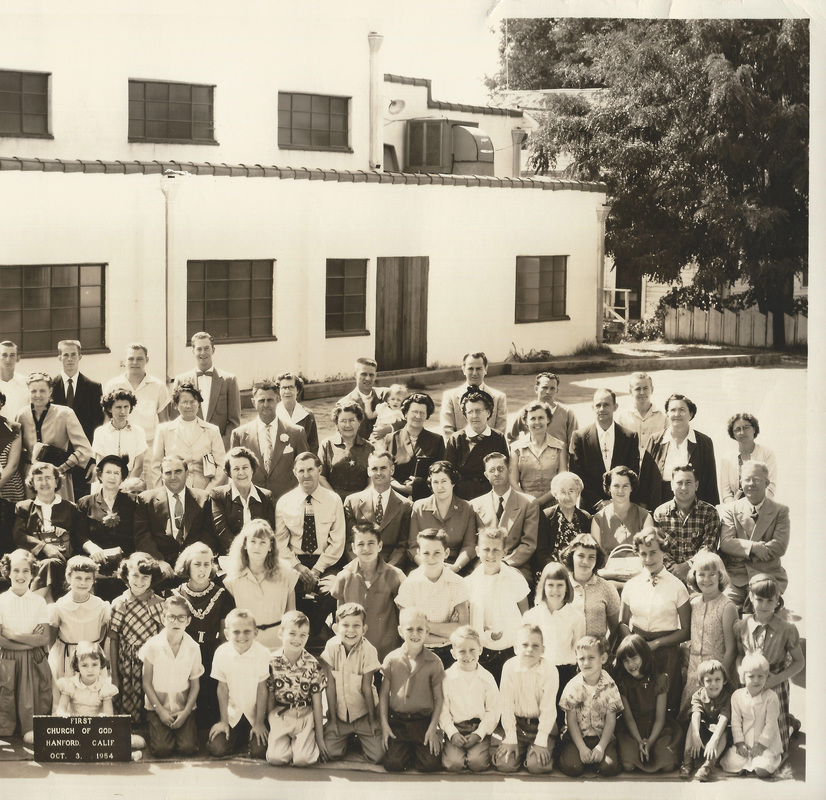 Row 1 (left to right)
​
Anita Richards
Lynn Richards
___?­­­­____ Richards
Diane Richards
Joyce Tarvin
Margie Tarvin
Sheila Scott
Robert Richards
? (Shirley Gunter)
Barbara Richards
Janice Roush
David Wells
Phillip Sansom
Dale Richards
Janice Edwards
Ray Gunter
Leroy Jeffries
? (Johnny Grant)
?
Eddie Curry
?
Dale Mynderup
?
?
Carol Curry
Winnie Curry





Row 2
​
Dale ? Wells
Bruce Jeffries
James Jeffries
John Wells
Doris Curry
Beverly Roush
Mirna Vander Veur
Jimmy Wells
Ray Gunter
Gene Scott
David Craig
Brad Sansom
Linda Tarvin
Becky Tarvin
Linda Gunter
Roberta ? (Fairfield?)
?
Ross Gunter
Dale Edwards
Jimmy Edwards
? (Barbara Bray)
Kay Tarvin
Linda Vander Veur
Margaret Giesbrecht
? (Judy Grant)
​

Row 3
​
Leora Wells
Irene Edwards
Janice Jeffries
Judy Craig
Edythe Pitt
Bessie Tarvin
Roy Formway
Eura Formway
Susie Hitchcock
Uytil Wells
Margaret Lake
Jennie McCrady
?
Elizabeth Scott
Vida Scott Green
Russell Green
Cora Richards
Irvin Richards
Elbert Edwards
Ozell Tarvin
Athol Tarvin
?
Willie Belle King Sanson
Bud Sansom
Pete Giesbrecht
​
​Row 4
​
Geri Edwards
Joan King
?
Joe Sequeira
Gene Scott
Rosemary Scott
Mildred Sandstrom
Elma Irene Sansom
Janice Lester
Esther Craig
Joyce Van Buskirk w/ Debbie
Marilyn Tarvin
Helen Green Curry
Lloyd Curry w/ Glenn
Arthur Richards
Naomi Morrison
Nellie Fairfield
Ophelia Gunter
Vida Bray Hintz
Edwin Hintz
? Costevens or Daisy Stephenson
Marion Roses' Mom
Marion Rose
Violet Vander Veur
Dick Vander Veur
Louisa King
Mattie Geisbrecht

Row 5
​
Edwin Richards w/Bruce?
Bill Roush w/Janine
Leadelle Roush
Irma Richards w/Stephen?
Buell Wells
Nell Wells
Juanita Jeffries w/?
Mary Esther Fairfield
Eleanor Duarte w/Rodney
Bertha Fairfield
Lacy Fairfield
Minnie Richards
?
Danny King
Doris Richards
Rice Tarvin w/Wayne
Ray Van Buskirk
Bobby ? (Van Buskirk family)
Dennis Giesbrecht