.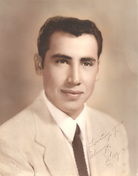 A SPECIAL DAY IN MARCH 1955 by Greg Miranda

I had a hard time sleeping the night before our big game. After all, we were going to play a school with a student body of 1,800 and here we were, a school of 230. We heard that they were big and a very good team. We knew that we had a good team but would we be good enough?

I tossed and turned trying to go to sleep, then when I heard the train whistle from far away, I knew that I would soon be sleep. You see, we lived only a short distance from the railroad tracks and many a night the clang, clang of those railroad cars would rock me to sleep. When I woke up the next morning and opened the door to the small shack that my brothers and I slept in, I knew this would be a special day.

I don't remember too much about our trip to Bakersfield, which was about 80 miles south of our little town of Laton, but I remember that we stopped and had a nice dinner that was paid for by the school athletic fund. When we finally arrived at the school, we walked into the gym and were in awe of how huge it was compared to what we were used to. Years later, I saw the movie, HOOSIERS, that was about a basketball team from a small town that was going to play for the State Championship in a big gym. The players were amazed at the size of the court until their coach reminded them that the measurements of the court were the same as the measurements of their home court. While watching the movie, I was thinking to myself .... "That was us"!

We knew we were going to have a good team because the year before, four of us had played on the Junior Varsity Team that won the Valley Championship and now we had moved up to play Varsity.

The previous year, Laton's Junior Varsity team won the Valley Championship, going 31 and 0, and now this year the Varsity team was 28 and 0 with two games to play. We had already won our League Championship but we still had a few games to play. A few weeks earlier, we played against Sierra High School, a team that we had previously beaten fairly easy. However, this time they were ready for us. I guess we had the "big head". After all, we had beaten everyone we had played by 20 or 30 points. We had set a school record in our home gym by scoring a hundred points and we thought that all we had to do was walk into the gym and they would fold.

That night our undefeated season came to an abrupt end. Looking back, I think that losing the game was a blessing in disguise. It showed us that we were not unbeatable and that we had to play a lot better if we were going to beat North High of Bakersfield.

When we arrived at the gym after the two hour bus ride, we went straight to the locker room. It would be a long wait until our game started.

Sierra High, the school that had ruined our perfect season, won their division in the Junior Varsity level and were playing prior to our game. They brought a large group of fans, which consisted of about six bus loads of students. Coach Brown did not want us to get all excited so he made us stay in the locker room while they played their game. I don't remember if they won or who they played but I remember hearing a lot of noise coming from the gym. When their game of over and we were ready to run into the gym, I had more butterflies than ever before.

I kept remembering back when I was in the eighth grade and we played against a school in Fresno. There were 12 of us on the team but we only had 11 jerseys. The coach told me that if he put me in, I could use one of the jerseys. I remembered feeling so hurt and I promised myself that I would work real hard and do what ever it would take for this to never happen again.

As we entered the gym, the band was playing and everyone was on their feet. Some of the guys from Laton had brought an old bell from a church that had been torn down a few year before. It took two guys to ring it and you could hear it throughout the gym, DONG ...... DONG ...... DONG.

I think the whole town of Laton was there and, along with the Sierra High School fans, we filled the whole side of the gym. The Laton fans had cheered for them during their game and now they were cheering for us. The noise was like nothing I had ever heard before. I felt so proud as we did our warm-ups! Our little school had never come this far in the play-offs and here I was, a part of it all!

When the game started and I hit three jump shots from the top of the key, Bill McIntire, our forward, hit two or three long range shots (which are three pointers in today's rules). Their coach must have been thinking, "None of this is on the scouting report!". You see, our last league game was at Caruthers High and we knew Bakersfield would be scouting us during that game so Coach Brown told me not to shoot any jump shots and told Bill not to shoot any set shots. We didn't want to show them any of the special "weapons" that we had.

Bakersfield played us really tough and the game came down to the wire. We were three points ahead with only two minutes to go. They didn't have the 35-second shot clock in those days so we froze the ball (as they call it) and passed the ball back and forth in order to run down the clock. I could hear both the old church bell and the fans counting off the seconds and then finally the buzzer sounded. David had just slain Goliath! We won the game!

Somehow, I knew that this was going to be a very special day!!!


---