"The only thing I know for sure, is that I don't know." ~Arthur Lopez

**********



I am attempting to compile a list of all Laton Alumni who were in the Military, as well as those who were Killed in Action or POWs. They will be honored with the following stars next to their names ---

* - Served in the Military
* - Killed in Action
* - Prisoner of War

Give me a few months then if I have missed names that should be added, please contact me at LatonHigh@comcast.net



Class of 1959 (Click on photos to enlarge)


This is a glimpse of what happened during our years at LHS - September 1954 - June 1959

1955/56 - TV shows include The Price is Right and the first half-hour serial As The World Turns began on CBS. I Love Lucy, Father Knows Best, The Millionaire, The Tonight Show (with Steve Allen) and Gunsmoke were some of our favorite TV shows.

Elvis Presley appeared on the Ed Sullivan Show and he entered the music charts for the first time with Heartbreak Hotel, the first of 170 hits. Other musicians at that time were, Bill Haley and the Comets, Chuck Berry, Jerry Lee Lewis, Johnny Cash, Ella Fitzgerald and Dean Martin. The Rock and Roll craze swept the world.

Elvis Presley's first movie, Love Me Tender opened in New York. Other movies that year were Guys and Dolls, The King and I, Trapeze, High Society, and Around the World in Eighty Days.

My Fair Lady opened on Broadway starring Julie Andrews and Rex Harrison and Prince Rainier of Monaco married Grace Kelly.

In sports, the Summer Olympics were held in Melbourne, Australia and the Winter Olympics were held in Cortina d'Ampezzo, Italy. Rocky Marciano retired as the only undefeated Heavyweight Champion of the world.

The average cost of a new home was $11,700, monthly rent averaged $88 and the average yearly wages were $4,450. The price of a new car was $2,050 and gas was 22 cents a gallon.

Born this year were David Copperfield, Martina Navratilova and Bo Derek.

Songs we were listening to -
Heartbreak Hotel - Elvis Presley
Be Bop a Lula - Gene Vincent
Great Pretender - The Platters
Hot Diggity - Perry Como
I Almost Lost My Mind - Pat Boone
Ivory Tower - Cathy Carr
Long Tall Sally - Little Richard
Memories Are Made Of This - Dean Martin
Blue Suede Shoes - Elvis Presley
On The Street Where You Live - Vic Damone
Standing On The Corner - The Four Lads
Hound Dog - Elvis Presley
Wayward Wind - Gogi Grant
I Want You, I Need You, I Love You - Elvis Presley
Don't Be Cruel - Elvis Presley
Love Me Tender - Elis Presley

1957 - There was a continued growth of bigger taller fins on new cars and more lights, bigger with more powerful engines and the average car sold for $2,749. The Soviet Union Launched the first space satellite, Sputnik 1.

Movies included Jailhouse Rock, The Ten Commandments, Loving You, Twelve Angry Men and The Bridge Over the River Kwai. On TV we watched Perry Mason and Wagon Train. For the first time we also watched Leave It To Beaver, The Real McCoys, and Maverick.

American Bandstand made its debut on ABC. The music continued to be Rock and Roll with artists like Little Richard. The popular toys were Slinkies and Hula Hoops. The continued growth of the use of credit was shown by the fact that 2/3 of all new cars were bought on credit.

Some of the areas that would cause problems later were starting to show; South Vietnam was attacked by Viet Cong Guerrillas and troops were sent to Arkansas to enforce anti-segregation laws.

The average cost of a new home was $12,220 and the average monthly rent was $90. Yearly wages averaged $4,550 and a gallon of gas cost 24 cents. Eggs were 28 cents a dozen and children's shoes could be bought for $5.95.

Elvis purchased a mansion in Memphis, Tennessee and called it Graceland.

Born this year were Donny Osmond and Gloria Estefan

Songs we were listening to -
Teddy Bear - Elvis Presley
Band Stand - Les Elgart
Peggy Sue - Buddy Holly
Blueberry Hill - Fats Domino
Butterfly - Andy Williams
Dark Moon - Gale Storm
Diana - Paul Anka
Don't Forbid Me - Pat Boone
Honeycomb - Jimmy Rogers
Party Doll - Buddy Knox
Round & Round - Perry Como
Tammy - Debbie Reynolds
That'll Be The Day - Buddy Holly & The Crickets

1958 - The inflation rate was below 2% so those in work earning the average wage of $4,600 per year were quite well off. Cars continued to get bigger and heavier with larger engines, but imports continued to grow now with the Datsun and Toyotas from Japan.

America's first satellite was launched from Cape Canaveral. This is also the year that the Microchip was developed which was the very early stages of PCs we all now use at work and at home.

A new home was $12,750 and the average monthly rent was $92. A gallon of gas was 25 cents.

The first Trans-Atlantic passenger jetliner service began with flights between London and New York on the new British Comet Jet.

Packard cars end production however, at the same time, we saw our first Etch-A-Sketch and remote control.

Elvis Presley was inducted into the United States Army, Sir Edmund Hillary reached the South Pole and the U.S. nuclear submarine Nautilus passed under the ice cap at the North Pole.

Movies this year were South Pacific, Gigi and Vertigo. Popular singers were Elvis Presley, Billie Holiday, Ricky Nelson, Frank Sinatra, The Everly Brothers, Ella Fitzgerald and Jerry Lee Lewis. Popular TV programs were Candid Camera, The Ed Sullivan Show, The Jack Benny Show, and Alfred Hitchcock Presents.

Born this year were Andrea Bocelli, Tanya Tucker and Jamie Lee Curtis.

Songs we were listening to -
Bird Dog - The Everly Brothers
Catch A Falling Star - Perry Como
Get A Job - The Silhouettes
Great Balls Of Fire - Jerry Lee Lewis
He's Got The Whole World In His Hands - Laurie London
Little Star - The Elegants
Poor Little Fool - Ricky Nelson
To Know Him Is To Love Him - The Teddy Bears
Twilight Time - The Platters
Witch Doctor - David Seville

1959 - TV programs included Rawhide, Bonanza and The Twilight Zone. Bonanza premiered on NBC and was the first weekly television series broadcast completely in color. The Twilight Zone also premiered this year. Other shows we watched included The Huckleberry Hound Show and Dragnet.

Alaska was admitted to the Union and became the 49th state and Hawaii became the 50th. The Boeing 707 comes into service and little girls love the Barbie Dolls made by Mattel.

Fidel comes to power in Cuba.

The cost of a new home averaged $12,400 and yearly wages averaged $5,010. The price of a new car was about $2,200 and a gallon of gas was 25 cents. Movie tickets were $1 and a loaf of bread was 20 cents. Ladies stockings were $1.

NASA introduces John Glenn and Alan Shepard, Jr. to the world as America's first astronauts. USSR Luna 2 crashes onto the moon as the first man-made object and Luna 3 sends back the first photos of the far side of the moon. The first pictures of earth from space were taken by Explorer 6.

The United States launches the first weather station in space.

Qantas introduces the Boeing 707 on its Sydney-San Francisco route, the first Trans-Pacific service flown by jet.

Zerox launches the first commercial copier and DeBeers manufactured a synthetic diamond.

The first known human with HIV died in the Congo.

The US Grammy Music Awards started. The last musical from Rodgers and Hammerstein, The Sound of Music, opens on Broadway.

The chartered plane transporting musicians Buddy Holly, Richie Valens, and the Big Bopper goes down in an Iowa snowstorm, killing all four occupants on board. The tragedy is later termed "The Day the Music Died" which was popularized in Don McLean's song, American Pie.

Popular films this year were Ben-Hur, Some Like It Hot, Anatomy of a Murder, North by Northwestand Sleeping Beauty.

Popular singers were Doris Day, Frank Sinatra, Connie Frances and Jim Reeves.

Born this year were Fred Couple and Simon Cowell.

Songs we were listening to -
Heartaches By The Number - Guy Mitchell
Lonely Boy - Paul Anka
Mack The Knife - Bobby Darin
Mr. Blue - The Fleetwoods
Sea Cruise - Frankie Ford
Sleep Walk - Santo & Johnny
Smoke Gets In Your Eyes - The Platters
Stagger Lee - Lloyd Price
Til I Kissed You - Everly Brothers
Why - Frankie Avalon


CLASS OF 1959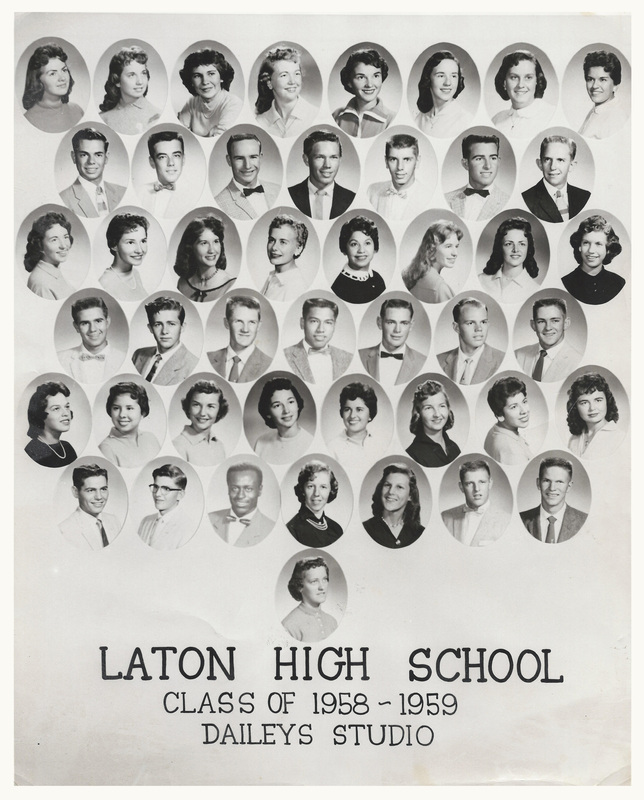 Alcoser, Emily Sims
- Los Osos CA -
After my husband passed away in 1980, my sister-in-law and I operated a clothing store for 8-9 years. Following that, I worked in a nursing home for the next 16 years. I have 3 daughters; two living nearby in Los Osos and another living on the Island of Maui. I also have a granddaughter, Taylor and 2 grandsons, Cameron and Noah. My relaxing time is spent gardening. My life-long dream was to become a millionaire. I'm still $999,999.99 short!
Allen, John
- Deceased (2003)
Avila, Joyce Gravance
- Laton CA -
In February 1958, Dick Gravance and I were married and moved to Fresno near Kearney Park. Dick worked for our Senator Jim Costa's father and uncle. When we moved back, we lived on my grandmother's ranch in Hub where we grew cotton. We were planning on making that our permanent home but the State of California decided to put the new Highway 41 Freeway right through the middle of the ranch. So we moved back to the ranch on Cedar Avenue where I was born.
We settled in and bought the ranch from my parents and raised our four children, Kathleen, Richard (Rick), Kevin and Rochelle.
Dick had a trucking business and, eventually, a dairy that the whole family worked on.
On one of his trips to the sale barn, he bought a bull for our son and son-in-law who were interested in bull riding. They needed a bull to practice on. Eventually, it led to us have a Rodeo Company. On the 75th Anniversary of the Salinas Rodeo, the cowboy who drew our bull, 'Satan Son', won the bull riding competition. (His son 'Look Out' was the Bull of Finals in Portland, Oregon)
All our children went to Laton Grammar School and graduated from Laton High.
Our oldest, Kathleen, lives in Arizona and works for a large school district. She has four children; 2 girls and 2 boys (Richard, Randi, Rhiannon, and Robby. Her oldest son, Richard (Hootie), and family live in Texas and have a 3-year old son, Weston.
Her oldest daughter, Randi, lives in Lemoore and works for Southwest Transportation where she is a bus driver. Randi has a 3-year old daughter, Taylor, and a brand new baby boy born on the 4th of October. They are still debating on his name.
Rhiannon lives in Riverdale and works in Fresno at a lab that tests soil and water. She is also going to school to become an x-ray technician.
Robby lives in Riverdale and works for his father repairing communication towers.
My oldest son, Richard (Rick), is single and lives in Sacramento and works for a lab that tests water and soil.
Kevin and his wife, Lathele, live on Mt. Whitney Avenue in Laton and have a hay trucking business and their 3 sons, Preston, Parker & Pierson, work for dad.
Preston and his wife, Brianna, live in Laton. Parker and Pierson, still live at home.
Rochelle, our youngest daughter, lives in Tacoma, Washington. She has her own personal training business and is an avid traveler and enjoys the outdoors --kayaking, camping, hunting and fishing.
Sadly, on Easter Sunday, April 11, 2004, after 46 years of marriage, I lost my husband, soul mate and best friend.
I'm still living on the ranch where I was born and raised and where we raised our family. I still have the rodeo stock to care for.
Avila
, Mary Lou Davis
- Hanford CA -
After High School I attended Jr. College for one year then started working at a local Department store in Hanford. I worked in the office and learned all the duties of running it efficiently, from record keeping, audit, cash, payroll and personnel. After working for 44 years in three locations that J.C. Penney's opened in Hanford, I finally retired in 2004.
In 1977, I married Norman Davis of Kingsburg, and in 1979 we had a son, Jeremy. Jeremy is married and has three little ones. He is the Sports Trainer at Hanford High School and a substitute teacher.
I have two stepsons and a stepdaughter. Doug, the oldest, is the Vice Principal at Kingsburg High School and has four children.
Daughter Wendi is a school teacher in the San Jose area and has two children. Kristopher, who lives in Santa Maria, has two children.
Norm and I enjoy going to Reno to visit my sister and spend a little money on the machines.
Azevedo
, Janet Heston
- Yucapia CA -
Gosh, it was a real awakening to get that call "50th year class reunion---that can't be me, but it is me!" Wow, so great to share the internet with you and to discover such successful and awesome classmates.
As for me, as some of you already know, my family moved soon after my graduation to Cayucos just out of Morro Bay, California. I worked as a receptionist for Shadowline (a lingerie manufacturer) in San Luis Obispo from 1959-1961; then upon moving to Southern California, I found employment with Sorenson Engineering (a small minuteman missile components manufacturer) in Yucaipa 1961-1971 doing payroll, accounting, correspondence and all phases of a one-girl office. With my desire to advance in my skills, I sought employment with Teledyne Battery Products (a battery manufacturing subsidiary of Teledyne Inc.) in Redlands 1971-1979 where I began in the personnel department and advanced to Assistant to the Facilities Manager.
In June, 1979, my husband, Bud, (whom has been my loving and devoted husband for 47 years this November) and I adopted a beautiful and precious little 10-year old daughter named Julie. With this special little one joining us, I terminated my employment to be her Mommy and work with Bud in his RV store and repair shop (Heston's R.V. Parts & Service) which he had established in 1973 in Yucaipa. Now this lovely daughter is the Mom of our most cherished grandsons, Tibor (19), Zolton (13), and little Richie (2-1/2). To our sorrow, they moved to Ogden, Utah (our Tibor remained with us to further his education here) last January due to employment relocation which has been a very heartfelt adjustment for us not having them close by.
Bud and I still operate our small business (along with the help of Tibor as he can) and enjoy showing our two 1923 T-Bucket roadsters and a 1926 T coupe (which was just finished) that have been built and restored by Bud himself.
As for my high school memories, there are the offices I was honored to hold in my class and student body, being associated with the yearbook and school newspaper staffs, the fundraisers, the fun-filled Catalina Island trip, and the school plays with my classmates. I remember how I could hardly wait for summer vacation to end so I could return to school to be with my friends.
I'm finding myself in that situation after all this time again with this reunion enabling me to see all of you once more. Goodness, 50 years since we heard our names, received that cherished diploma, and started out on our future endeavors.
Betts, Pat Areias
- Carson City NV
Borges
, Jerry
- Riverdale CA -
*
My wife, Gloria, and I have been married for 43 years. We have 4 children; Maryann lives in Fresno, Amy, a school teacher, lives in Santa Rosa, Jeremy lives in Clovis and is in construction and Andrew, a computer wiz, lives in New York. We also have 9 grandchildren. We are retired from farming and enjoy our free time at Avila Beach.
Brassart, Joyce Dick
- Selma CA -
Wallace and I have been married for 50 years. We have 2 daughters, 2 sons, 5 granddaughters, 3 grandsons and 4 great-grandsons.
We enjoy fishing, camping, dancing and trips to Las Vegas. We also enjoy playing bingo. I fondly remember Laton High School and the many wonderful teachers and classmates. I love going to reunions and have been to them all. I hope we have a few more.
Burns, Charles
- Fresno?
Crain
, Elmer
- Carmichael CA -
After high school, I attended COS in Visalia where I graduated in 1961 with an AA degree in business. I attended Warren Pacific College from 1961-1964 and participated in the Cross Country Choir Tour in the summer of 1963.
I married Leslie, from Fresno, in 1967 and we moved to Sacramento in 1968. We have five children; three girls and two boys. We have nine grandchildren; seven boys and two girls, (a little light on the girls)
I worked for tractor parts business and a welding shop repairing tractors, backhoes etc from 1968 to 1983. In November 1983, I went into business for myself, establishing Elmer's Portable Welding Service. Presently 4 of my five children work in the business. My oldest son, Aaron, is President, taking the business from specializing in repair work into structural steel and erecting. Daniel, is a key welder, many times wishing I could clone him as he is mechanically inclined solving problem jobs with ease and a hard worker. Mary is Controller and Job Scheduler, generally keeping all the ins-and-outs functioning smoothly. Emily, joined the team this year, and is becoming an invaluable help in all facets of the business, except welding.
In 2007, Leslie and I traveled across country pulling our trailer through 36 states in 52 days 10,600 miles. We loved every minute of it. Now we have an appetite for roaming with no schedules and random destinations.
I'm still working in the business with no intentions of retiring any time soon.
Davis, Dale
- Deceased (2010)
Davis, Mildred Tadlock
- Clovis CA -
My husband, Denny (Denzil) Tadlock, and I are retired and live in Clovis, California. We enjoy spending time together, time with our family and an occasional trip to the coast.
We treasure the time we have to spend with family and friends. We have 4 children ( 2 boys and 2 girls). We also have 5 wonderful grandchildren (2 girls and 3 boys). Children and grandchildren are such a blessing. We have truly been blessed. The two oldest grandsons graduate from college soon (does that make us old or just feel old?). Did I forget to mention Missi, our lab/Sheppard mix? She thinks she is a lap dog (boy is she wrong). Then there is Katie, our calico cat, who definitely has a mind of her own.
Blessings to all of you.
Dias, Cecilia Morales
- Laton CA
Dias
, Gary
- Bakersfield CA -
I have 4 children, 16 grandchildren and 1 great-grandchild. I retired from construction when I sold my business. I enjoy fishing, camping and hunting. My favorite memories of Laton High School were the school dances and our Senior trip to Catalina.
Dodd, Jack
- Laton CA
Dragoo, Bill
- Fresno CA -
* -
After playing in the East-West All Star Football Game in late July 1959, I received an athletic grant from Reedley Junior College to play football. (My grades were so sorry that no other school would look at me.) I attained a starter position as both Right Offensive and Left Defensive Tackle. I broke my nose in Phoenix, Arizona and because of the lack of classroom attendance, I decided to leave Reedley just before the semester finals and join the U.S. Marine Corps Reserves. I will never forget my thoughts upon arriving at boot camp….. 'This must be Russia or some place similar because they would never treat Americans like this.' (ha-ha!) I must admit, I started to grow up. My six months active duty turned into eight because of a guy named Powers and his U-2 getting shot down over Russia. I spent the next 4-½ plus years in the USMCR HAWK Missile unit in Fresno and concluded my Military as a Corporal E-4.
Upon leaving active military duty, I returned to the area and worked a month with West Lake Farms before securing a job at Berven Rug Mills in Fresno. Paula (McCutcheon) and I were married in February 1961 in Laton. We moved to Fresno and, after living there a little over a year, we sold our house to Kenneth and Joyce (Upton) Trammel. After moving across town to our next home, we sold it to Noland and Betty Rutherford. It seemed at this point, all of our real-estate dealings would be with old classmates.
In 1963, I became a Hanford Police Officer where I worked for exactly two years. Albert Lea (Class of '57) and I had a lot of fun at work. Paula and I were still very poor but we wanted a boat. Bill Walker and I became partners in a 14' ski boat. One of the problems was that Bill got most of our coke bottles since we would always clean out the boat at his house and wash it at mine. The highlights of our boating were when Bill and I were trying out a new borrowed brass prop and I ran into the Kings River Bridge. There was another time when Bill, along with his dad and me, took a 14 foot 'yacht' out of Morrow Bay into the great Pacific. The fog soon surrounded us and we had no idea where land might be. However, it didn't matter because we were catching Blues with a Trout setup (they felt like Marlin). Our fun was soon interrupted when we started hearing the roar of waves splashing over a nearby rock that we couldn't see. Bill said "Never fear dear!" and attempted to start the motor, however, the battery was dead. His dad then gave him a profound and great name when he yelled at Bill saying, "Well Captain Bird Shit, whata we do now?" Bill had an answer! He yelled "Magoo" (I assumed he was referring to me) "you steer while I pull the starter rope." – which he did rather fast. Well, we made it and those are our boating partnership highlights.
In 1965, I became a Fresno Police Officer and Paula and I moved back to Fresno. My first assignment was the walking beat, which I learned to love and then went through various assignments becoming a Detective in Robbery/Homicide. In July 1970, I was on my way to a taxi-cab robbery at 2 am when I was diverted to my home. Paula was in labor and she got to ride to the hospital in a police car. Well, it was a plain undercover vehicle, but it had a red light and siren (ha-ha!). Eric William was born 15 minutes after our arrival. In May 1975, although in not so dramatic fashion, Mark Christopher was born.
In 1974, I decided to go back to college, hoping it would aid in further promotions within the Police Department. I had discovered that the reason school was such a pain for me was that I was dyslexic. I also made two additional discoveries that changed my future. First was that Reedley Junior College and Fresno City were in the same district. I found this out after registering for class. I received my old transcript and a library bill for an overdue book in the amount of $32.00 and my grades were an 'F' in bone-head English, 'F' Health Science, 'F' in Psychology 7, and an 'A' in Football. Second I learned that I actually liked school.
By 1976 I received a BA, Magna Cum Laude, from CSUF. It seemed to work because I began to get promoted and in 1978 I achieved my highest rank of Lieutenant/Commander.
I went back to school in 1980 and in 1983 I received an MS Degree (With Distinction with a 4.0 GPA). That earned me a nomination for the Dean's Medal; however, I lost to a female who was in teaching. The consolation prize was an offer to teach in the Criminology Department part-time. In 1984, Paula went back to school and after graduating with honors from the Nursing Program, became a Registered Nurse. She worked for Valley Medical Center, Post Partum and stayed through the transition as it became known as University Medical Center. She retired in 1997 with 10 years (to the day) of service. In 1993, with 30 years of service, I retired from the Fresno Police Department. Two years later, I started teaching full time at CSUF's Criminology Department. In 2004, I took advantage of the 'Golden Hand Shake' from the State of California and retired again. However, I continued to work teaching two classes a semester until this fall and now I'm fully retired.
Our son, Eric, after graduating from UC Davis, is a San Jose Police Officer where he is assigned to the hit-and-run detail. He is married to Heather and they have 3 boys, Adam (6), Wyatt (3) and Ronin (1). Our son Mark received an athletic grant to Western Michigan University as a punter and place kicker. He stayed around after receiving his BS Degree and received a Masters in Psychology; I must admit our finances really improved when he left school. He worked for the County of Fresno, counseling 'At Risk Youth' for 5 years. He is now a Fresno Fireman and loves his work.
Paula and I have lived in Fresno in the San Joaquin Country Club Estates since 1980. In 1989, we built a home in Tahoe/Donner where we live during the summer and find we are now spending more time there than in Fresno. Other than taking a few trips to Hawaii, a cruise to Alaska, and a riverboat cruise through Europe, we haven't been too exciting. Probably our greatest thrills were traveling 80,000 air miles per year to watch Mark play football during the time he was at Western Michigan.
Our health seems to be okay. Paula weighs the same as on her wedding day, but as for me, well let's say, I could be a jockey in an elephant race and would not have to worry about getting blown off. Paula's Fresno County Fair's blue ribbon baking entries have taken their toil.
I will miss seeing each of you and hope you have a great time. Maybe, if God is willing, I will see you at our next reunion.
Dudley, JoAnn Jackson
- Deceased (2017) -
I have 3 girls, 3 grandsons and 2 granddaughters. We have a farm where we raise pigs, cows, ducks and chickens. My husband and I have been together for 43 years.
Dudley, Ronald
- Deceased (1992)
Duyst
, Bob
- Fresno CA -
Fifty-years since graduating from Laton High School in 1959. How can that be since I still think of myself as a young man? I attended College of Sequoias for 2 years and then 2 more years at Fresno State. 1963 was a monumental year for me. I married Trudy Stewart (Class of 1960) in January, graduated from Fresno State with a liberal studies degree in May, and in September began my teaching career in Fresno Unified School District. Over my 34 year teaching career I taught middle grades at four elementary schools including the last 23 years at Starr Elementary.
Trudy and I have 3 children, 2 daughters and a son. We also have 9 grandchildren and a step great-grandson. Our children are all in the profession of education.
After teaching I spent a number of years vineyard farming in the Laton area. I presently divide my time enjoying our grandkids, doing some volunteer work, including church administrative work, being an avid sports fan, and attending sporting events--especially those connected with Fresno State.
Fry, Arlene Bradford
- Escalon CA
Gentry, Laurie Gauna
- Laton CA
Goble, Leroy
- Coalinga CA
Guevara, Lucy Pitkin
- Deceased (1998) -
After graduating from LHS, Lucy attended Reedley College for one year, after which, she joined the United States Navy for about a year and a half. She later worked for Warehouse Furniture for 13 years. Lucy had a daughter, Penny, and a son, Mark.
Hammond, Bernice Jimenez
- Deceased (2016) -
Roque Jiminez (Class of '58) and I were married soon after my graduation in 1959. In 1961 our first son, Michael, was born then we added another son to our family when Ed was born in 1963.
Michael works as a welder for New England Sheet Metal and has 2 children; a boy and a girl (the only girl in our family). She is attending UCSB with plans to be an orthodontist but currently working as a dental assistant while going to college.
Ed works for Lyons Raisins and has 3 children (all boys).
I started working as a teacher's aid at Laton Elementary in 1966 then, 3 years later, I became the school secretary – a position I held for the next 27 years.
Roque began working at Laton High School in March of 1963 and finally retired in 2002. He enjoys his leisure time by fishing. Usually, it's lake and stream fishing in the high Sierras.
Hansen, Sandy Overhauser
- Deceased (1992)
Harbert, Ken
- Deceased (2007)
Kenny retired from the California Department of Forestry after 25 years. He was employed by the Murphy Slough Association for 16 years. His passions were going to his daughter's softball games, golfing and farming.
Kenny had three daughters, Kara, Krysta, Keely, an adopted daughter, Anita, as well as a granddaughter, Alexis.
Hargrove
, Robert
- Visalia CA -
I have 3 children. Between my wife and me, we have 12 grandkids. We are both retired and my hobbies are hunting and fishing with my son, Todd
Homen, Joe
- Portland OR -
I had my own hairstyling shop for 30 years in San Jose, CA. In 2001, my wife and I finally retired to Portland, Oregon. I have one daughter and one grandson. I also have 3 step-children and 12 step-grandchildren. Yes, we keep busy with all of them.
I have fond memories of playing in the high school band and going to the football games. School dances were also favorite times. These days my favorite activity is playing golf.
Huffman, Bonnie Burnett
- Citrus Heights CA
Irwin, Jim
- Deceased (2007)
Jennings, Wilbur
- Deceased (2014)
Koelewyn, Greta Souza
- Hanford CA -
Len (my high school sweetheart) and I have been married for 47 years. God has blessed us with 2 wonderful daughters, Shelley (44) and Tammy (41), as well as, 5 wonderful grandchildren. Shelley has 2 children - Karissa 19, who is attending COS, and Kyle, a junior at CVC. Tammy has 3 children - Hannah (a 13 year old 8th grader), Sierra (an 8 year old 2nd grader) and David (3). They all live in Hanford so we are blessed to be able to attend their school activities and sporting events.
After high school, I attended nursing school in Santa Rosa, Ca. and fulfilled my dream of becoming a R.N. I worked both in-hospital and office nursing for approximately 30+ years, retiring in 2003. Retirement came a little earlier than I had anticipated due to the break-up of the doctors' group that I was employed by, however, I have adjusted to retirement without too much difficulty.
In 1963, Len went to work for Armstrong Rubber Company as a tire builder. He retired after working there for 31+ years. Due to some unforeseen problems with the company, retirement came a bit early. Feeling too young to retire, he drove truck for 10 years. Then in 1999, we became walnut farmers with my youngest brother, Herman, on the family farm. This keeps Len busy and he has decided he likes to farm. This year's crop has just been harvested and we hope for a good price.
I enjoy volunteering with different church activities. I also volunteer at a thrift store and attend and help with two Bible study groups. I also enjoy our grandchildren's activities, working in our yard and, of course, love to shop.
Latham, Elaine Garcia
- Deceased (2009) –
Elaine lived in Hanford where she was a homemaker who enjoyed reading, going to church, Bible studies and visiting friends. She had one son Anthony Garcia and daughters, Jeannie Riley (Aaron), Angie Garcia (Tommy Eddings), Denise Raulino (Danny), and Melissa Flocchini (Nick). She had grandchildren, Manuel Raulino IV, Amber Alves, Cassi Riley, Michelle Riley, Logan Riley, Torey Garcia, Monica Raulino, Justin Flocchini, Ryan Flocchini and Alan Flochinni. She also had great-grandchildren, Anglelina Raulino, Jordan Alves, Molly Alves and Angelina Raulino.
Lewis, Donna
- Laton CA -
Following my years at Laton High School, I worked as a banker. During those 31 years I attempted to retire three different times, however, they kept calling me back. Finally this past year I was able to retire for good.
I have three children, Susan, Kevin and Steven and five grandchildren. I also have two great-grandchildren.
I enjoy shopping, going to the coast with my daughter and to sporting events with my grandchildren.
Looking back, I realize that four generations of my family have attended Laton High School, starting with my father, Gerald Lewis (Class of 1940), then my brother Larry (Class of '61) and me. Two of my three children also attended LHS; Steven (Class of '81) and Susan (Class of '83). Then there were my grandkids, Steven Lee, Jr., Robbie Lee, Lacy Lee, Joey Lee and Brandon Hamilton who is currently in his junior year at LHS.
I'm very blessed that my family lives nearby.
Loard
, Wayne
- Longview WA -
Dale Davis and his brother Gene introduced me to Ham Radio while we were in Eighth Grade, at Laton Elementary.
Electronics was interesting and opened up a new world to me. Surplus Military receivers were relatively cheap, and plentiful, but transmitters were not as easy to come by, so we built our own from scratch, or from kits. I built a one transistor receiver to listen to Stan's Private Line, broadcast in late evenings on KMJ.
I hung around Cliff Bacon's TV repair shop in Laton, until he got tired of me bugging him, and put me to work installing TV antennas on weekends. I also learned a lot about repairing TV and Radio from Cliff.
While we were in High School, Ray Winslow introduced me to flying, which also quickly got in my blood.
After I graduated from Laton High, I operated heavy equipment for a while, and it was fun, but dirty work. Cliff introduced to me to Bill Phipps, who owned a TV repair shop in Hanford. I hired on as a trainee and soon was in the field repairing TV's and radios.
Fran Close and I married, and lived in Hanford, where our daughter Charlene, and son Vernon, were born.
The company where I was employed branched out into Cable TV. We built a small Cable TV system in Avenal, purchased and operated one at Lake Isabella, and obtained a franchise to operate a system in Ceres, CA.
I moved my family to Ceres in 1974 to start up and manage the company there. Modesto had an airport, with an Avionics shop in operation, so I started working there, repairing aircraft radios on weekends, in exchange for flying time. Shortly, I was offered the position of shop manager, along with flying privileges. The opportunity to combine electronics, with flying, was too good to pass up, so I left my longtime employer, for a new challenge.
Fran and I drifted apart, and I met my current wife Elaine.
In 1981, I purchased a business on the airport that was closing. I operated Modesto Avionics from that time, until 2001, when I was offered a position with the FAA at Fresno, as an Aviation Safety Inspector, Avionics.
We sold the business and our home, and moved to Coarsegold. I am still working for the FAA, and Elaine is working from home as a part time bookkeeper, and political activist. Our plan is to retire in January 2011, when we hope to move to Longview, WA, where we have bought a retirement home.
Charlene, Vernon, and Fran still live in Ceres. Son, Donnie, lives in Las Vegas.
Hobbies are ham radio, motorcycles, and antique gasoline engines. When I am asked how I am doing, my reply is always. "I do not have even one complaint, life has been good to me." I have been very blessed. I am older, fatter, and happier than I have ever been. Our home is always open and you all are welcome to stop by anytime. We are listed in the Coarsegold phone directory, and live in Yosemite Lakes Park, off highway 41, about 25 miles north of Fresno.
Lopez
, Art
- Nipomo CA -
HellOOOOOOOOOOO MUSTANGS, OR SHALL I SAY, YOU OLD GRAY MARES.
A bit more serious, Linda (Scherf) and I will be celebrating our 46th Anniversary this November. We have two great children, Mark and Robin, (adults) as you can surmise. Mark and his wife, Denna have our only two grandchildren, Alexander 16, a better than average basketballer and loves to skateboard and Kristina 12, a super swimmer and loves photography. As can be expected, they can do no wrong. What can I say. Our daughter Robin continues to teach for the State Penal System.In brief, during a tenure of 39 years in education, working as a teacher, coach, athletic director and administrator has lead me to continue to work in a semi-retired program. Presently, I instruct in the Education Department for National University, serving as part-time instructor and Student Teacher Supervisor. It is lots of fun working with young adults starting their teaching careers. I enjoy playing golf although I'm not very good at it. I continue to enjoy most types of music and work with friends' and family's carpenter needs.As I sit trying to bang out a few words which may make sense to some of you and others that just don't give a (dam), here goes. A small reflection on what we experienced at Laton High, was that this small community of students and teachers gave us the opportunity to share the good, the bad and the ugly of a great number of people. Something our children may not have or will have the opportunity to experience. If what I just stated is not very clear, ask me to clarify this rhetoric at the REUNION. Hope to see and talk to as many as possible of the CLASS OF 1959. For those of you who are hard of hearing, I still have my coaching voice.
Lopez, Inez James
- Oakdale CA -
After graduating from Laton High, I went to work in Hanford. In 1964 I married and moved to Oakdale which is near Modesto. My two children live nearby. My daughter, Toni, works in the pharmacy at Wal-Mart and my son, Brian, is a warehouse worker at Gallo.
Six years ago I retired from Hersheys. Now I'm looking for an interesting part-time job that pays $100,000 per year. If you know of a job like this, please let me know. At this time, my daily exercise routine is walking to the local donut shop and talking to the interesting old men who homestead the place. We do this, of course, while eating donuts. I am currently a volunteer in a 2nd grade class where I assist our students who need extra help with reading, a position I've held for the past 4 years. My passion in life is reading and looking for a rich man. (It would be nice if he enjoyed the casinos like I do.)
Love, Shirley Richards
- Salix PA -
I married Ron Richards in 1964 and we will celebrate our 44th Anniversary in September. We have two children, a son and daughter. Both are married and our daughter has 3 children; a son and two daughters. After graduating from Laton High, I worked in various departments for Pacific Telephone and Telegraph in Hanford. I moved to Cleveland, Ohio in 1965 and worked in the Plant Department for Ohio Bell Telephone and Telegraph. I also worked part-time in a hospital business office. In 1973 we moved to Pennsylvania where we are still residing. I retired after 24 years from the University of Pittsburgh at Johnstown as Administrative Assistant to the Library Director. While at UPJ, I was active in the Staff Association and the University Women's Association. In 1999, I was the first recipient of the President's Staff Award for Excellence in Service (something I'm very proud of).
I have been active in the American Legion Auxiliary for 35 years serving as Secretary/Treasurer/Membership Chair for many years. I was also President of the Cambria County Council for the past two years.
Although home is Salix, Pennsylvania, my husband and I are "Snow Birds" and spend the winter months in Florida.
Lowe
, Larry
- Orland CA -
I have been in the cattle business in Orland since the early 60's. Jeanie and I have been married for 35 years and she does the bookkeeping for our business.
I have 3 children. My oldest daughter and husband have a cattle and sheep operation in California and Idaho. They have 3 children. My other daughter and husband live in Idaho, have 2 children and also have cattle and sheep. My son and his wife live in Orland and have 2 children. He owns a feed commodity and trucking business. He also raises cattle and is involved in our ranching operation.
McHone, Peggy Smith
- Kingsburg CA
Mendes, Henry
- Laton CA
Milam, Frances Sequeira
- Grants Pass OR -
I have 2 children (a boy & a girl), 5 grandchildren (3 boys & 2 girls) and 4 great-grandchildren (3 boys & 1 girl). I retired in 1999 after 32 years as a school bus driver and transportation aid. I am an Area Captain for Tops (Take Off Pounds Sensibly); 18 years now. I am also a Senior Regent for Women of the Moose. My husband, Joe, retired from mill working. My best memory of Laton High School was going to Catalina Island on our Senior Trip. What fun we had!
Miranda, Sal
- Sanger CA
Murphy, Bob
- Oakley CA
Phillips Redwine, Betty Ammon
- Dana Point CA
Rit
chie, George
- Friant CA
- I'll start first with what I liked most about Laton High and I've done a lot of thinking on this. There are so many wonderful memories it's hard to pick one thing. From the time I started as the Freshman Class President to our graduation ceremonies, I felt all my classmates were my
friends, especially my special friend, Barbara. By playing three different sports, there were a lot of trips and games. But of course the trip that sticks out the most, and I am sure it's the same for most of you, is the Catalina trip.
Now what has happened to me after leaving Laton High School? I married Verlene Cato and we had two wonderful daughters, Diana and Suzanna. Each gave us a granddaughter and 2 grandsons. Diana is living in Wyoming and Suzanna in Colorado.
After 29 years, Verlene and I divorced. I stumbled around for a few years until I met Ellen. She has made this man very happy and I look forward to spending the rest of my life with her.
Rodriguez, Lydia Sorenson
- Deceasd (2010)
Sandoval, Della Spindler
- Laton CA
Silva
, Helen Yokes
- Laton CA
Simerly, Janis Hanse
- Hanford CA -
I started working in Hanford after graduation then married my high school sweetheart, Peter Hanse. Life has been a crazy party ever since.
We have been blessed with three children and five grandkids. I am the bookkeeper for Hanse Farms, Inc.
We spend much of our time partying on the Kings River or on one of our boats in the Morro Bay area. Life is great! It always amazes me that, somehow, I get involved in all our Class Reunions?
Smith, Bob
- Selma CA
*
Souza, Ernie
- Selma CA -
After high school, I went to work for Armstrong Tire Company in Hanford for 3-1/2 yrs. I started farming with my father-in-law after Armstrong. I married a Conejo girl, Virginia Raven, in 1963. We have 2 sons, Shane and Randy, and 3 grandsons, Pierce (12), Preston (10) and Maverick (60). No girls in this family!
I farm table grapes and walnuts and don't plan to retire real soon. As for a hobby, I enjoy watching sports on the tube. My wife, Virginia, is a homemaker. We will be married for 46 yrs in November
P.S. Don't ask for our e-mail ----- we are still in the 50's!!!!
Souza, Leonard
- Hanford CA - (
See Greta Koelewyn's bio)
Stonebarger, Anita Lee
- Selma CA
Stout, Tom
- Deceased (1989)
Sutphin, Wanda Nichol
s - Lemoore CA -
I am retired and recently widowed. I have 4 children, 8 grandchildren and 7 great-grandchildren.
My best memories of Laton High School are hanging out with my BFFs, the trip to Catalina and graduation.
Trammel, Kenneth
- Deceased (1995)
Turner, Gail Henry
- Deceased (2014) - Gail had
two daughters, one son and five grandchildren. She lived all over California including several years in Auburn. From there she went to Missouri in the Kansas City area where she lived for 18 months before returning to Laton to finish raising her kids.
She
returned to college and graduated in '92 from Fresno State with a bachelor's degree in a special major that she wrote herself. She then worked as a mental health tech in two different hospitals and really enjoyed it, especially running the 'hot line' at night. Gail retired early due to severe health problems and lived in 'sunny downtown Laton' until her death in May 2014.
van der Veur, Linda
- Clovis CA -
I lived in The Napa Valley from 1974 to 2014 where I raised two daughters and two sons. I was a volunteer in the Napa County District Attorney's office specializing in Consumer Protection which many times, includes fraud, scams and identity theft issues. I also volunteer by teaching computer skills to seniors as well as keeping their computers working properly. A few years ago I went back to college full time where I also played on the college golf team.
I have had the opportunity to do some traveling, including 6 cruises, and trips to Canada, Mexico, Panama, Puerto Rico, Switzerland, Germany, Austria, Italy and Yugoslavia (only months before the Civil War broke out). I've also traveled to all but 8 of our states. I've white water rafted in Alaska and the rain forest of Costa Rica. I was in a whiteout on a ski-lift in Switzerland on Mt. First (it's next to the Eiger, where the movie "The Eiger Sanction" was filmed.) I've snorkeled in Trunk Bay (on St. John Island in the Caribbean), St. Thomas, Maui, Kauai and Oahu. I've been to the White House (where I was allowed to play the incredible Steinway piano), the Vice President's residence, The Western White House in Crawford, Texas and Air Force One ….. but there's still no place like home.
I spend a lot of time outdoors which includes maintaining my gardens where I have hosted six weddings. My extended family includes two Great Danes and 6 granddogs, all of which were rescued.
In the past few years, most of my time has been spent working on the Alumni Web site, as well as the Web site for the town of Laton. This leaves little time for golf. However, I took up the sport of Bocce and played in a Bocce League in the Napa Valley. Most of the players had some connection to the wine business so there was never a shortage of wine to drink during the games. It's tough but somebody had to do it!
My older son, Craig, lives in Fresno where he has his own landscape maintenance business. He is still single and has no children. After being away from the Valley for 40 years, it was nice to get back to the area where I could spend more time with him.
My older daughter, Kay, lives in Napa with her husband, Jim, who is a retired U.S. Army Lt. Colonel but now working in the wine industry.
My younger daughter, Margie, also lives in Napa with her husband, Rob, who is a San Francisco Fireman. They have 3 children, Robbie (22), Keleigh (18) and Gillian (16). Robbie is attending UC Davis where he is majoring in chemical engineering. Keleigh is attending Napa Valley College.
My youngest son, Bob, passed away a few years ago which has left a terrible hole in my heart. A few years before he passed away he rescued Oberon, a 195 pound Great Dane, and trained him as a Service Dog for Valley Children's Hospital. Bob, being an EMT, as well as a Rescue & Recovery Diver, was at times called upon to do rescue work in the mountains. A large backpack was created for Oberon which enabled him to carry medical equipment during those rescues. Oberon now lives with me so, along with the Hospital Service work, I also take him to local nursing homes where his size and sweet disposition amazes everyone. At this time, I am in the process having him qualified as the tallest living dog in the world (40 inches at his shoulders)*.
I'm now back in the Valley after being gone for 40 years, and living in Clovis where I can be near my sister, Mirna. With a smaller home and less landscaping to manage, I'll have more time to work on this web site and fish at Huntington with Sis.
In July of 2016, I was diagnosed with Ovarian Cancer so there was immediate surgery, a lot of hospital procedures, then 6 months of chemo. I was told that I only had a 30% chance of making it but with a lot of prayers from all my family and friends along with brilliant doctors, I was declared "cancer free" in March 2017. PRAISE THE LORD! *Oberon passed away before I made my recent move to Clovis so now I have another rescued Dane named Samson. Sam is quite small in comparison to Obie. He's only 165 pounds. In October of 2016 I also adopted new puppy, a mix of Border Collie, Australian Shepherd and Australian Cattle dog who is now about 50 pounds. She is like a bouncing ball all the time and keeps Sam occupied most of the time. She is a quick learner and I'm constantly trying to find new tricks that I can teach her. The most important one was for her to go where I patted the mattress on our bed otherwise there was no room for Sam and me. She thought the middle was her spot. I call her my Velcro dog because she has to be touching me all the time. Her full name is Annie-Cat 2.0 (2.0 is her surname.)
Walker, Bill
- Lemoore CA -
After graduating from Laton High, I was a carpenter for 10 years. Following that I was the Union Representative for the Carpenters Union in the Sacramento/San Francisco area; a position I held for the next 30 years.
My wife, Betty, and I finally moved back to Lemoore 15 years ago when I retired. Between us, we have 4 children and 11 grandchildren. For the past 7 years I've enjoyed racing Go-carts with my son.
Warmerdam, Barbara VanRuiten
- Sanger CA -
I have been married for 48 years to Jake VanRuiten. We have three children and six grandchildren.
Jake is now retired from the dairy business but we are still involved in farming and have some cattle. I love to golf!
Warmerdam
, John
-
Hanford CA
- My wife, Mindy, and I have been married for 36 years. Mindy is an elementary school teacher and I have been farming all my life. We have 3 sons and 2 daughters. We also have 6 grandchildren; 4 girls and 2 boys.
Warmerdam
, Nick
- Hanford CA -
Exactly one year after attending our 10th Class Reunion, Judy and I were married. Judy is from St. Louis, Missouri. We have 2 sons and 1 daughter. Our older son, Steve, who married this past February, graduated from UC Berkeley. The younger son, David, who will be married next month, graduated from San Diego State. Our daughter, Michele graduated from UCSB and is currently studying nursing at the University of San Diego.
We are farming fruits, nuts and cherries and also spend a lot of time in San Diego.
Weaver, Wendell
- Deceased 2012
Webster
, Gerald
- Maple Valley WA -
*
After graduation, I enlisted in the Air Force, being stationed in Japan; Glascow, Montana and Laon, France. Upon discharge in 1963, I married Joyce Erickson and lived in Hanford and then Fresno, moving to the Seattle, Washington area where we have been for the last 40 years. We are now living in Maple Valley, Washington, a small town about 30 miles from Seattle.
We have three children, Christine, Jerry and Rochelle, and six grandchildren (4 granddaughters and 2 grandsons). We see a lot of them as they all live within an hour's drive of us. I worked for Tharco Containers in the Seattle area for the last 25 years, from which I am now partially retired.
Wilhite, Larry
- Deceased (1996)
Williams
, Kay deVries
- Sprauge River OR
Williamson, Danny
- Alturas CA
Winslow, Ray
-
Laughlin NV
-
*
Ray started learning to fly from Al LaFleur, the local Laton crop duster. He flew the red and white Stearmans with Al for 3 years while attending Fresno State. Ray met Sue Buckles while attending college and they married in 1963. They now have 3 children; Lance, Carrie Sue, and Brett. He joined the Navy in 1964 to fly jets and eventually flew 123 combat missions over North Viet Nam. Ray joined Continental Airlines while out of the Navy for a short time in 1969. He returned to the Navy where he retired in 1985 as a Captain. He then retired from Continental in 2001 after flying the DC10, B747 and B777.Sue and Ray lived on the island of Guam for 5 years in the 90's, flying to many small Pacific islands. After the airline, Ray flew a Gulfstream for the producer of the "Simpsons" for three years. Now he works part time flying a Gulfstream, mostly in Europe.
Sue and Ray live in Camarillo, California. Their youngest son Brett became a Marine pilot, but is now out after 3 tours in Iraq.
And they all lived happily ever after!