Class of 1958
Do you have information that I can use in a bio for anyone on this page? If so, please email it to me at
LatonHigh@comcast.net
Linda
I am attempting to compile a list of all Laton Alumni who were in the Military, as well as those who were Killed in Action or were POWs. They will be honored with the following stars next to their names ---
* - Served in the Military
* - Killed in Action
* - Prisoner of War
********************
​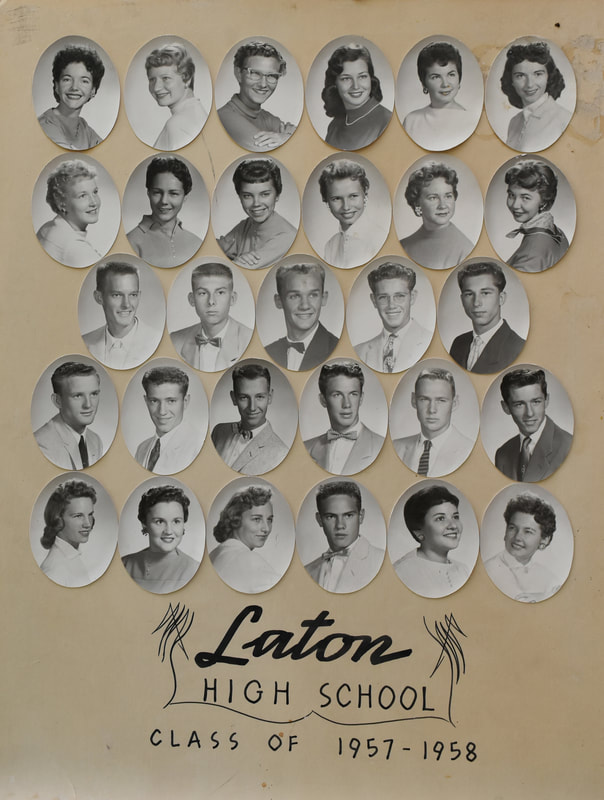 Adams, Falvey
- Hanford CA
Adams, Patricia Spears - Clovis CA
Alcoser, Adeline Caeton - Fresno CA -
I have three daughters and five grandchildren. I work for the Los Banos Unified School District and hope to retire in 2010.
Arnold, John - Deceased?
Baker, Vivian Verdegaal - Hanford CA
Borges, Anthony - Deceased (1987)
Carias, Mel
- Pismo Beach CA
Coleman, Margaret - ?
Cotta, Joe
- Hanford CA
Davis, Ronald - Caruthers CA
Downing, Susette Smith - Deceased
Duty, Betty Aguiar
- Laton CA
Ellis, Bonnie Danforth - Andover NH
Ellis, Leon - Deceased (2008)
Finley, Wanda MacCagno - Deceased (1982)
Flynn, Ladoana Woods - Apple Valley CA
Garcia, Madeline Machado - Riverdale CA
Gillam, Wendell
- Hanford CA
Gillespie, James - Deceased (2011)
Hanse, Peter
- Hanford
Harbert, Don
- Trinity TX
Harris, Gene - Gresham OR
Hurlbut, Bob
- Hanford CA
Hurt, Donna McColloch - Deceased (2004)
Jiminez, Roque - Deceased (2013)
Lawson, Dorothy - ?
Lea, Alvin - Hanford CA
Lee, Rita Robison - Bakersfield CA
Long, George - Deceased (2009)
Machado, Delores Miranda - Deceased (2015)
Delores married the love of her life, Greg Miranda, in 1958. She worked at the Modesto Unemployment Office for 22 years, where she looked forward to meeting, talking with and helping those in need. She was a member of Valley Hope Community Church in Turlock and served as a member of the Beta Sigma Sorority for 23 years. Her most enjoyable things in life were to spend time with her family, to be in the Lord's presence, shop at boutiques and flea markets and vacation at the ocean. The also had a great love for her pets. Greg and Delores had sons Dean and Dion and daughters Vanette and Nicki. They had 11 grandchildren and 8 great grandchildren.
Madruga, Ronald
-
Port Angeles WA
*
McHone, Tom
- Hanford CA
Meadows, Don
- Sutherlin OR
Mosbacker, Barbara Wheat - Lemoore CA
Nash, Barbara Ellis - Deceased (2016)
Following graduation from Laton High School and Reedley College I then attended Fresno State College. I was employed by the County of Fresno for 33 years in the Veterans Service Office, and Valley Medical Center. For 20 years I worked part-time for a travel agency taking clients on fun trips throughout the United States. I am very proud to have two wonderful children, Mark and Melinda. I also have 4 grandchildren who are very active in sports and class activities. As a retired person, I am a big sports fan attending Fresno State Bulldog games and Fresno Grizzlies Baseball games. I'm also a big fan of the San Francisco Giants and the Golden State Warriors.
O'Daniels, Doug - Hanford CA
Payne, Chester - Deceased (1984)
Perry, Doris Edmondson - San Diego CA
Raven, Toni Gamble - Laton CA
Rush, Mary Ellen Griffith - Deceased (2013)
Scherf, Robert - Douglas AK
Silva, Cecilia - Dumont CO
Simerly, Larry - Hanford CA
Singh, David - Deceased (2003)
Souza, Willie - Tipton CA
Tipton, Doris - Deceased (1991)
Turner, Elaine Fraley
- Fresno CA -
Elaine married Bob Fraley (Class of 1956) in 1958. They celebrated 50 years of marriage in September 2008. They have 3 children: Tammi, Jill and Doug. She has been a stay-at-home mom and wife most of the time. Elaine bowls in 2 leagues each week and travels as much as possible. She was the DJ for all the Fresno State Track Meets where Bob coached. Elaine and Bob have grandchildren who range in age from 10 - 23 years. They have hosted "Fellowship of Christian Athletes" in their home for 40 years.
Warmerdam, Catherine Avila - Madras OR
Warmerdam, Jeanne VanderPool - Tulare CA
Webster, Anna Durst
- Laton CA