October 2012 Round-Up
*Click on each photo to enlarge. Captions are added when names are submitted.
The following 46 photos were taken by Linda van der Veur
The following 37 photos were taken by Falvey Adams
Who is this???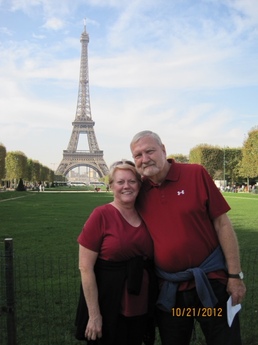 This couple missed the Round-Up & Reunion because they had previously booked a trip to Europe. I just received this so decided that I would include it with the reunion photos. I'm not telling you who they are but he graduated in the Class of 1957 then became a Navy pilot. He spent 20 years in the military and after having earned his wings as a Naval Aviator in the USMC and flying two tours in Viet Nam - first in Hueys on med-evacs and then the Cobras gunbirds, he retired. He then worked another 20 years in Civil Service instructing in helicopter simulators. He just "changed hats." He now has spent the last three years as an instructor with CUBIC, Inc., who staff the simulators for the USMC, at New River Air Station, Jacksonville, NC. "Six more months and I will retire, once and for all," he says. He hopes to do some traveling then and to visit California once again. He and his wife, Claudia, built their dream retirement home a year ago on the banks of The White Oak River, Stella, NC. They have one son, an attorney, in Sarasota, Florida.


---