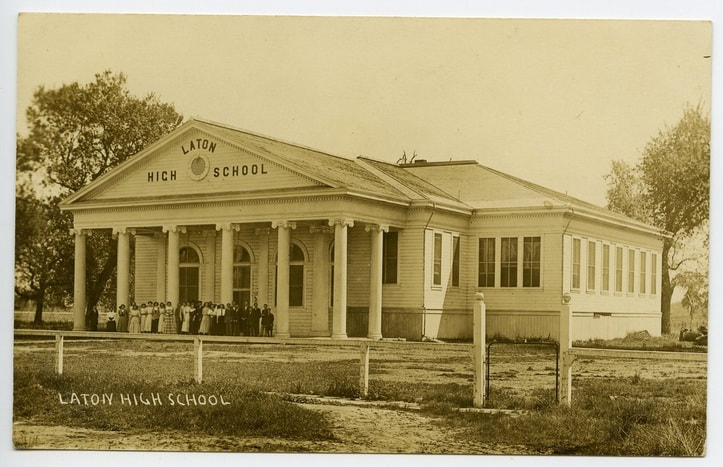 ......................................

This web site is intended for the enjoyment of Laton High School alumni, faculty and friends. Besides being a tribute to Laton High School, my hope is that the website will help us reconnect with each other.

By clicking on the links at the top of this page, it will take you to OUR HISTORY, ALUMNI, GRAMMAR SCHOOLS and MORE. (Note: 'more' takes you to REUNIONS, YEARBOOKS, PHOTOS, MEMORIES, FACULTY, SPORTS, OBITUARIES, BLOG, THOSE WHO SERVED. etc.)

You can expect frequent changes on this website as I will be constantly updating, adding information and photos.

My goal is to create a safe website where we can reconnect. Any suggestions will be appreciated.

​IMPORTANT INFORMATION .... FYI. You need to know about a web site that appears to be associated with our group. Our official web site is LatonHighSchool.org but this other site is latonhighschool.com. This is a commercial site where they want you to purchase items such as T-shirts, etc., that have the LHS logo printed on them. THEY ARE NOT AFFILIATED WITH US. They just want to make money from you. Don't be fooled. Stay away from it! One thing to look for are domain endings with .com. These sites are generally intended to be used for commercial businesses. Not necessarily bad but in this case, they are leading classmates to believe that they are actually affiliated with Laton High School. Our web site is a .org which indicates that we are a non-profit organization.



Laton High School - circa 1914
The approximate date of this photo was determined by the number of students shown, as well as the style of dress. The photo is from the collection of Michael J. Semas. His mother, Genevieve Perry Semas, was a 1950 graduate of LHS.



​

---
Visitors to this site